ITALY – Siena
plan b
I was supposed to visit L'Officina's cheesemaker today, but instead I learn a new vocab word, sciopero, or strike. The bus drivers have gone on strike, which means I'm stuck in Siena until nightfall. So I create a plan B: Tuscan Wine School. Like any good wine teacher, Marialuisa's teeth have a slight purplish hue. We go through 6 glasses, tasting a vernaccia from the San Gimignano area, a pure bred sangiovese that's a little tannic, and a Super Tuscan, which smells like heaven… If I could post smells, I'd post this one and the smell from a Sienese coffee roaster I passed this morning. Mmmm… The thick, 12 year aged balsamic is an unexpected dessert, served with strawberries. You could eat it like soup with a spoon it's so good.

new friends
Not all pasta in Tuscany is good. Before starting my cooking externship in Colle, I'm taking a 2-week Italian language class at Dante Alighieri, an international school in Siena (from my door to the seat in my class, it's about an hour and a half). We all go out after class to an osteria down the street, and it isn't just me who thinks the food is mediocre. The whole table agrees, which looks like an ad for a United Nations campaign: a teacher from Australia, a chef from Japan, a dentist from Germany… I don't even know the name of the place. The sign just says "osteria" and there's a wine barrel propping the door open. Maybe that should have been a warning. They didn't even bother naming the place.

My new Dutch friend, Meta, and our English friend, Hannah, say we should have gone to Osteria CiCE, which they went to the day before. Hannah says the pesto pasta was excellent there. The three of us make up for our sub-par lunch by getting some great gelato at Grom. Crema di Grom with bits of chocolate and cookie does the trick.

climbing the tower in il campo
Today Meta and I are climbing the Torre del Mangia, a tall tower in Palazzo del Campo. Il Campo is the centerpiece of Siena, an enormous slanted plaza where people lay on their backs and stare up at the giant tower. I'll admit, I told Meta I thought it was kind of strange that people would just lay on the brick, like you wouldn't lay down in the middle of the sidewalk… But by the end of the afternoon I'm eating my words and reclining with everyone else.

italian-french lunch
I'm seated on the second floor of Boccon del Prete. A middle-aged French couple is sitting to my right. It's pretty quiet in the restaurant until they serve the French man his glass of Vernaccia. He goes crazy. It's the best white wine he's ever tasted. He asks me if I want a glass and pours it before I answer. I've never met the man and this is our introduction. He gets even more revved up when I tell him I was just in Paris for a pastry class. Soon languages are flying across the table, French, English, and Italian, as my two classmates and his wife join in. The waitress rushes in to make sure everything is alright, but then just smiles and says, "Dolce (dessert)?"

stranded in siena again
After Meta, Hannah, and I have dinner in Siena (I try wild boar!), I head to the bus station, only to discover that the last bus of the evening has already left for Colle. What? It's not even that late… I guess I'll be staying in Siena tonight.

I feel sort of homeless, wandering back to Meta and Hannah's place to see if I can crash there for the night. Luckily, they have an extra twin bed.

On the bright side, I won't have to wake up two hours before class to travel to school tomorrow. Their apartment on Via Tommaso Pendola is literally a few feet away. Meta squirts some toothpaste on my finger, so I can brush my teeth. I just hope my teacher doesn't realize I'm wearing the same clothes as yesterday…

…She does. It's like the first thing she asks about. I have to try and explain to the whole class how I missed the bus in Italian. Oh well.

raincoat
I don't have a cell phone with me or any internet at the apartment in Colle. I usually use the WiFi at work or at Milleluci. Sometimes, I'll make plans to meet up with friends via Facebook chat or Words with Friends, but usually I rely on old school methods: by designating a time and place in person prior to hanging out, or by calling them on the pay phone in the town square. I don't have any plans today, so I take a chance and hop on the bus to Siena. Hopefully, Meta will be home and we can hang out.

By the time I get to Siena, about an hour and half later, it's raining and freezing. I can't go back for a jacket now. And even if I did, I don't actually have a rain jacket. Growing up in Phoenix, I've never needed a raincoat or any sort of coat really. I have been meaning to look for one, though, because it's been getting cold at night in Colle on my walk home from work.

Fortunately, there are some clothing stores right by the bus stop, so I don't get too wet. Siena has some pretty cool stores, unlike Colle, which sells most of its clothing at the market. After I pay, I go back into the dressing room to change and carry my old clothes in a shopping bag out the door.

I knock on Meta's door, and she's home! Hannah's gone back to London, so she has two new roommates from Germany, who've taken over her old room. Her roommates end up making us dinner. We do the dishes. Meta gets on me for leaving the water on instead of turning it off in between washing plates.

We take her roommates out for gelato at a place on Via S. Pietro with green signs that read, "Artiginale Gelato," and eat it on the street steps before I catch the last bus home. I actually make the bus this time.
---
Explore more of Siena
or take the bus to San Gimignano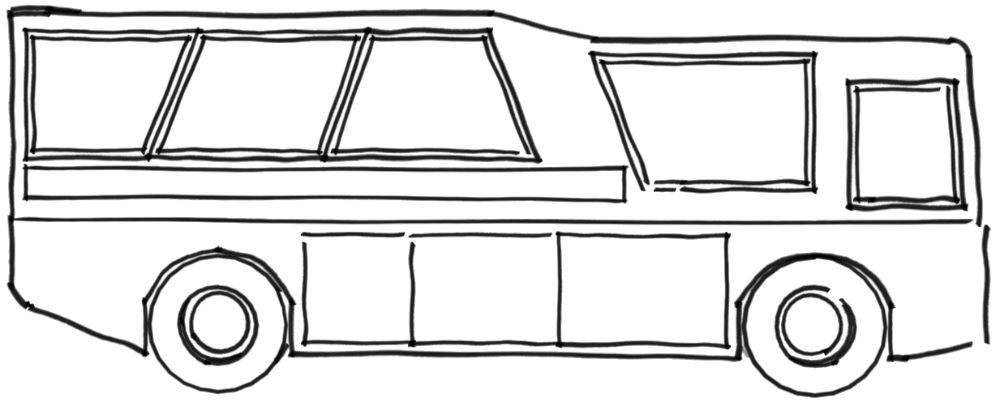 ---
joey@travelto7.com