ARGENTINA – Buenos Aires
bicentenario
We're standing in the middle of Avenue 9 de Julio in Buenos Aires surrounded by a huge crowd of Argentines, a mass of patriotic sky blue, oh and I'm about one second away from being kissed by a llama. It's Argentina's Bicentenario! 200 years from the May revolution.

The news anchors estimate about a million people in the streets. And it feels like it. Even though it's one of the widest avenues in the world, there's barely any room to move. I've never feared being squished to death, but it feels like a definite possibility. As we try to cross from one side of the street to the other, we're pressed flush against complete strangers. It feels like we're a pair of socks in an over-packed suitcase and someone is trying to force the zipper closed. The mass of people shuffles a few steps forward, then to the side, then back again. Eventually, we're pushed out of the center of the crowd onto the walkable street edge where we finally can breathe again.

The center of the action is near the Obelisco, which looks like the Washington Monument's little brother. Performers rotate out after short sets on stage while the porteños, or locals (literally "people of the port"), dance in the streets, float balloons over the crowd like the Macy's Day parade, eat cotton candy, and pose for pictures with miniature donkeys and very friendly llamas.

Kaitlin and I get some candied nuts, which the vendor cooks in a copper pot and scoops into a folded paper cone. What a day to arrive in Buenos Aires. We couldn't have planned it any better. And soon the World Cup starts!

After a few hours, we return to America del Sur Hostel in San Telmo to meet the rest of our tango group, who has been arriving throughout the past couple days. In terms of hostels, it's really nice, especially compared to Funny Farm Hostel in Interlaken. It's on Chacabuco, a narrow street with some cool graffiti.

We eat dinner in the courtyard of the hostel. Chimichurri, a garlic/parsley sauce, adds a nice kick to the grilled steak. It's weird to wear a jacket in May, especially as it's already nearing 100 degrees in Phoenix, but since we're in the Southern Hemisphere now, it's almost winter.

We have to walk a mile to our taxi because the driver can't cross 9 de Julio. There's a light parade going on now. The festivities show no sign of stopping.

A small sign hangs above the entrance to the milonga, which reads "Salon Canning." I'm a little nervous to go to our first milonga, but more eager to find out how tango in BA compares to tango in Tempe.

It's bigger than you except from the outside. It's basically a banquet hall, with a large dance floor. Color Tango is playing music tonight. They're great. It's a total different vibe with live music.

Tonight's about getting our feet wet, and the milonga offers a great mix of dancing, orchestra playing, and performances. My first tanda (set of 3 songs) is with Sabrina. We don't chit chat between songs like I usually do back home. I try to observe the milongeros, or old, experienced tango dancers, through the corners of my eyes as I lead Sabrina around the parquet floor. As the cortina plays, signaling the end of the tanda, I lead her back off the dance floor, and think to myself, "Hey, I just tangoed in Buenos Aires!"
Tues, May 25-10
the caboceo
Tonight we dress a little fancier. The guys wear ties and the ladies are in dresses. The entrance is nondescript. Next to the Carrefour market, there's a black metal double door with one side propped open, which leads into a foyer with a sign overhead welcoming you to Boedo Tango. The milonga itself is called Sueño Porteño. You climb up a set of wood stairs that wrap around a red wall with some tango posters. About halfway up, you start to hear Golden Age tango music. D'Arienzo, I think – King of the beat. The dance floor is on one half of the room outlined by some mirrored columns. Wrapping around the edge of the floor are three layers of tables with bags of shoes stuffed underneath the chairs.

We find a table in the back, which isn't ideal for caboceoing people, but it's alright. You see, at a milonga, in order to get a dance, the leader has to make eye contact with a follower, who's sitting at another table, and then nod his head. If she wants to dance with him, she'll nod back, "yes." If she doesn't, she'll shake him off, usually by turning her head to look the opposite direction. Sometimes the better tango dancers won't even give you a chance. They only make eye contact with the people they want to tango with.

It's nice not having to ask verbally for a couple reasons. Since I don't speak Spanish, that's one benefit. I don't have to out myself as a foreigner right off the bat, although, they'll probably pick that up pretty quickly once we start dancing. The other thing is, it's not such a big deal if she looks the other way. It's a subtle nod from across the room, and no one else even knows you asked her to dance.

It's an older crowd. The girls get lots of dances. I finally caboceo a lady towards the entrance, so I get up and walk over. She stands up and smiles. I squeeze my way through the tables and right as I come up to her, a man comes from behind me, takes her hand, and escorts her to the dance floor. Oh yeah, that's one of the downsides to caboceoing… Sometimes, there's someone sitting behind you and you think you've caboceoed a girl, but you haven't, so you keep walking and pretend like you got up to go to the bathroom.
Wed, May 26
casa rosada
During the day, we check out the Casa Rosada. It's like the White House, but pink… There's a group of young school kids that ask to be in our picture. There aren't many tourists around. Most of the activity is centered on a small parade of elderly women, the Madres de Plaza de Mayo, who carry a banner through the square. They have been protesting since the 70s when their children went "missing" during the reign of a military regime in Argentina. Over 10,000 people vanished.

We eat a classic Spanish dinner at La Gran Taberna, which faces the backside of the National Congress building, a massive structure with a dome that looks like it's been stretched up a few extra feet. My salmon is topped with a tomato broth with peas and sliced onions and served with crispy, fried potato slices. The server, a man dressed in a bow tie and black vest, ignites our dessert at the table, a flaming crêpe, which he ladles with more boozy syrup to extend the flambé.

Tonight's milonga is called Niño Bien. It's the milonga I was picturing milongas in Buenos Aires to be like. It's a long hall with tall, paneled, pale yellow walls and a beautiful old wooden floor full of people dancing in a counter clockwise moving oval.

As we sit down at the table to change our shoes, Isaac tells me how the good dancers, especially followers, will just watch for the first few tandas and create a mental list of those they want to dance with and those they intend to shake off if caboceoed…

This girl wearing slate gray and wavy black hair passes me. She has beautiful back ochoes. She looks like a ballerina, extending her long legs as she pivots her hips. When she sits down, I caboceo her from across the dance floor, thinking I'm probably on her "shake off" list, but she nods yes, so I walk around and meet her at the edge of the dance floor. We wait until there's a gap in the line of dance and then I give her a nod and we take a step out onto the floor. I bring my left hand up and she places her right hand in my palm and then we wrap our other arms around each other in close embrace.

I'm nervous and start out with simple steps, but by the second time around the floor I relax. I feel her subtly adjust her hand on my back as I lead her into different moves, angling her hand downwards or upwards. The song ends and everyone stops in place and chats quietly while the next song plays its intro.

She asks me how I'm doing in Spanish.
"Bien." I tell her.
She asks me another question I don't understand. I must have a puzzled expression because she says, "You don't speak Spanish?"
I shake my head no. She laughs.
"I speak a little English," she says, but when she speaks English I can hear that her accent isn't Spanish.
"Where are you from?" I ask.
"I'm from France."
"Comment ça va?"
"You speak French?"
"Only a little. Un peu." I tell her.

We dance two more songs before the tanda ends. During the next break, we exchange hometowns and then talk about how it's hard to get locals to dance with us. I think it's funny that my best tanda in Buenos Aires so far was actually with another tourist.
Thurs, May 27
palacio barolo
For breakfast, Claudia and I walk to l'Embruix, which is just up from Esso gas station on Chile street. It's a nice place with large open windows overlooking the street. We get a table next to the bar, which is tucked under a loft area. The lunch crowd is starting to roll in. We're not exactly early for breakfast. We order medialunas and café con leches, a classic Argentine pairing. The medialunas are like mini French croissants, and they're great dipped into the coffee.

Back at the hostel, we stack the tables and chairs in the lobby and have a tango lesson with Christian and Virginia, who teach us some different paradas, or "stops." The leader places his foot in front of the follower's, almost like he's trying to trip her. Then he guides her over as she lifts her leg, sometimes with an embellishment. They teach us a double parada and one where you keep the follower on her axis and glide her in a circle like she's a dancer in a music box. I like that one.

After our group lesson, we all walk over to Palacio Barolo for a view of the city and some tango clothes shopping. Palacio Barolo is a gorgeous Art Nouveau building. It was once the tallest building in Buenos Aires, so tall you could actually see it in Uruguay… well at least the beam of light emanating from the top (it was equipped with a beacon, so it could double as a lighthouse). The lobby is tall and airy. Earl and Delisa use the polished floors as an impromptu dance surface and a few others join in as Ryan plays tango music off of his iPhone. You know how some people, who do yoga, like to do yoga poses in public and post pictures of themselves? Well, tango dancers are kind of like that with dancing in random places.

The design of the building is based on Dante Alighieri's Divine Comedy. "Paradise," or the top floor, is a clothing store called Tango Moda. There's an old-style elevator with a black metal gate you have to manually pull open, or for the more athletic, a curvy set of stairs.

The view from the top is incredible. We stay until the sun sets and the city turns on its lights. You don't realize how many buildings there are packed in Buenos Aires until you stand outside on this small roof deck. The shop owner gives us wine and Lydia plays the guitar while the girls try on some "fashionable" tango outfits. Some of the guys try on these parachute pants, which are like the pant right now, especially for tango instructors to wear during lessons, but I think someone should tell MC Hammer to check his closet because I'm pretty sure he's missing some pants.

There's a neon sign that illuminates the dance floor of the milonga tonight, reading "Club Gricel." The empty floor quickly becomes crowded as the DJ intersperses sets of salsa and other non-tango music in between tandas. Jose Luis tries to get me to dance with this one girl and when I finally get her to dance with me, he keeps smiling and giving me a thumbs up every time I pass the table, all three songs.
Fri, May 28
all night milonga
The large glass wall overlooking the courtyard is covered in rain spots when I head downstairs in the late morning.

Kaitlin and I make our way to Matilda's during a lull in the rain. Yesterday, we had managed to find the one American bakery in Buenos Aires. It was like it was calling out to us. It's a tiny place on Chile St. I order the huevos y mayonesa sandwich off the chalkboard menu. The homey, egg salad sandwich is perfect on the rainy day. We sit on stools at a narrow, wrap-around wood counter that turns into a window display of red velvet and chocolate cupcakes.

We cab it to the tango shoe district on Suipacha street, but don't have much success finding shoes even though we look at hundreds.

The rain starts coming down hard, so we find shelter in a café and take a medialuna and café con leche break.

We're going to two milongas tonight. The first one is the Cachirulo Milonga at Plaza Bohemia. It's the smallest milonga we've been to, but still crowded. There's only a single row of tables along the sides, and two rows on the ends, which makes it a little difficult to walk around after you cabeceo someone. It's simply decorated with white walls, frameless mirrors, and plain red table cloths. Fans spin overhead in line with the dancers. Wine is cheaper than a bottle of water on the menu. So naturally, I order the house red, and Sabrina, who I share the table with, orders a café and medialunas. She says she needs to wake up if we're going to La Viruta afterwards.

La Viruta, the afterhours milonga, goes until 3:30am during the week and until 6am Fridays and Saturdays. The taxi arrives at what looks like an office building in the business district. I think maybe we're lost. Our drivers have already gotten lost a couple times. But we see a couple carrying a shoe bag go inside, and then the other half of our group arrives, so we know we're in the right place. There are letters above the door that read, "Asociacion Cultural Armenia." The milonga is underground in the basement. It feels a little like an old disco club, especially compared to the more traditional places we've been to so far. It's loud and energetic with multicolored lights that contrast the grey street façade. We don't quite make it to sunrise, reemerging around 4am. The street's quiet and dark now. I fall asleep on the ride home.
Sat, May 29
feria de los mataderos
After a couple cloudy days, we wake up to a beautiful, sunny morning. Ok, afternoon. We were dancing until 4am yesterday. We head over to the Feria de los Mataderos. I love a good farmers market. I hope that's what heaven's like – a little outdoor market with beautiful produce and some fresh pastries.

This one's got it all: ladies in doily hats hand-making empanadas and frying them on the spot, stalls selling leather products, candied fruit and popcorn kabobs, gauchos (cowboys) in traditional garb with miniature ponies. The center of the market is a stage where they perform Argentine folk dances like Chacarera. At one point everyone in the market stops and sings the Argentine national anthem as their blue and white stripped flag with the sun in the middle rises up the flag pole.

I watch a man engraving names and designs onto silver-plated mate cups. The cup rests on its side on a small pillow and he hammers the top with a pointed tool, quickly rotating the cup a notch and then continuing to hammer. He's extremely efficient at it like he's been doing it for years, and carries on a conversation simultaneously with a shopper. I've yet to try mate, but everyone drinks it. Daniela describes it as an earthy green tea. The leaves are left in the cup and you drink out of a straw that has a filter on the bottom. There's lots of different styles of cups from hollowed out gourds to modern, colorful pieces. I ask him to make a cup for my sister. I have to write "Amy" on a piece of paper. He looks at it like he's unsure that's a real name. But a few minutes later he hands me the engraved cup.

America del Sur is hosting a traditional asado dinner tonight in the lobby. Chef Juan prepares us delicious cuts of beef and chicken with sides of veggies and chimichurri. Dessert is a beautifully plated flan. And there's even some live guitar music.

The guitar music turns to tango music as we enter El Beso. The walls are a warm shade of yellow, and small amber lanterns with dangling jewels seem to float around the edge of the dance floor. It's a fairly small place and we find seats opposite the bar at some cocktail tables with dark green and purple tablecloths. I try to cabeceo some girls, but I keep striking out. I end up talking to the girl sitting next to me named Wei, who is from China and on a similar tango tour of Buenos Aires as us. We've been to some of the same milongas and compare our favorites.

It's not until it gets late and the floor starts to empty out, that I finally cabeceo this one lady from across the way. She agrees reluctantly. I had tried to cabeceo her earlier, but she'd looked away. I guess she's given into my determination, or else she's realized there aren't many leaders left and I'm one of her only options. I don't care. I get to finally dance. She corrects my posture as we get into the embrace. And during the breaks she shares some pointers with me. Usually you don't get feedback at a milonga (mostly that happens at a practica), but I appreciate the feedback. That's why I'm here – to improve. So the night ends up not to be too much of a disappointment. Even though I don't dance that much tonight, I still got to watch some really good dancers.
Sun, May 30
el afronte
I walk down to La Poesia in the morning. It's my favorite new hangout, a few minutes' walk from our hostel down Chile Street. I've been here a couple times now, usually in the middle of the day for a coffee after our daytime adventures and before dinner and dancing.

An upright piano (I really want to play) sits near the entrance. Framed photos in various sizes fill the walls in random clusters. And medialunas are stacked five-high on a cake plate atop a worn, wooden bar.

I order a café and take a seat on the first floor. I catch up on my travel journal while a lady sitting at the window reads the paper and an elderly man with a grey moustache looks over at me from the adjacent table. He says something, trying to start a conversation, but the attempt ends abruptly when he realizes I don't speak Spanish. He laughs loudly and continues to drink his coffee, periodically spying on me as I scribble into my small notebook, I suppose trying to figure out what I'm writing about. You, old man. I'm writing about you!

We're going to a milonga in San Telmo tonight with live music. It's called Benedita Milonga on Mondays and Maldita on Wednesdays and Sundays, but it's the same orchestra, El Afronte. We walk down Peru Street, and look for number 571, which we find hanging under a small street lamp next to an old door that looks like it might be the entrance to the adjacent carpark. There's a poster taped lazily next to it, advertising the orchestra, so we go inside.

It's an industrial style interior. Wood floor, exposed brick, and metal folding chairs. It has a cool vibe. It's predominately a younger crowd compared to the range of ages at the other milongas. It's not too full. We dance for a bit before the orchestra starts to play around 11pm. The bandoneon player gets really into the music, dipping his head with each unfolding of his square-shaped accordion. The upright piano is without a front cover, so you can see the hammers hitting the strings. The orchestra's great. It's a fun, chill evening, listening to the orchestra and dancing until it ends around 2am.
Mon, May 31
caminito
Caminito is the colorful picture of Buenos Aires you see on postcards. Daniela warns us that's it's not a very safe neighborhood at night, so we go there midafternoon when it's mostly full of tourists and street performers. The taxi driver passes the Boca Juniors soccer stadium and then lets us out in front of a group of painters on a cobblestone street. I pick out a canvas of a man playing the bandoneon in a fedora that's encircled with thick swirls of yellow paint. As the painter unclips the canvas from the wire display, he confesses that the yellow wasn't his original intent. He wasn't satisfied with how the figure turned out, so he tried to create something else. Another canvas hangs next to the empty space, this one of the "successfully" painted musician, but I like the one with the story better.

Kaitlin and I pose with some tango performers on the street and pop our heads inside cut-outs of cartoon dancers. We make friends with a lady selling purses and shirts of the cartoon character, Mafalda, inside a courtyard painted of primary colors and illustrations.

The milonga tonight is at Catedral. It used to be a church, hence the name, but now it's like walking into a attic. The walls are full of eclectic artwork and funky objects. Sabrina tells us the floor is uneven, so she puts on her dance sneakers. The place is packed, and we can't find seats together. I see an empty seat at a table for four, and ask if I can sit with them.

They say, "Of course" and introduce themselves. David, Kim, and I'll be honest I don't catch the other girl's name. It's loud in here. David gets up to dance with the one I don't know, maybe Jeanine?, and then Kim and I dance. Kim tells me she's from Boston and her and David are on an around the world trip together. They're starting in South America, then going to Europe, Africa, and Asia. It sounds amazing. As we get into the embrace, she tells me she's only started to learn tango, but she responds really well like she's been dancing for years. During the break, she says she and David do Lindy Hop and shows me the difference in embrace. So she has been dancing a while, just not tango. I think after you learn one partner dance, you pick up others more quickly. We dance a couple tandas and then a band performs. By the end of the night, it's like we're all friends. They're really great people. I hope we hang out again someday.
Tues, June 1
tango lesson
In the morning, we take a lesson with Issac before another class with Analia and Marcelo back at the hostel. We're trying to get in as much dancing as we can these last few days. Analia and Marcelo teach us not to think about dancing as "leading" and "following," but simply "dancing." I like that idea. It's really about being one person, and moving together. No one's in charge, and yet you're both in charge.

After some more tango shoe shopping, we go to TangoLab. It's a casual space like a practica. We watch a cool performance and finish with some Chacarera (Argentine folk dancing).
Wed, June 2
café tortoni
It's the last day with the full group. Tomorrow some are heading home, while a small group of us are staying an extra couple days in Buenos Aires before busing it to wine country in Mendoza.

We have our farewell brunch at Café Tortoni, a café which has been around since the 1850s. It's pretty fancy inside. It's a tall room with polished red columns that extend up to a stained-glass ceiling. Servers wear tuxedos, and the china is emblazoned with the name of the café.

We're not that fancy, which is probably why they seat us in the back room. And also maybe because we reenacted the Abbey Road album cover in front of a picture of a crosswalk they have on display.
Thurs, June 3
what to do in palermo
It's our first non-tango day of the trip, so we explore some of Palermo, the largest barrio in Buenos Aires. Kaitlin really, really wants to go to the Eva Perón Museum. I really, really don't. But that's where we end up first.

So the Eva Perón Museum. It's educational. That's really the best thing I can say about it. There's a replica of her kitchen and her car and displays of her clothes and hats. I do learn some stuff about her life and Argentine history. The gift shop is probably my favorite part because of all the weird Evita fan merchandise. Kaitlin buys a skirt, which is essentially a wrap-around fabric portrait of Eva Perón's face.
We wander through more of Palermo and into the Japanese Gardens. It's divided into little scenes, my favorite being that of an arched red bridge over a lake with the skyline in the distance. There's also some wood cut-outs of a samurai and geisha we put our faces through.

The Buenos Aires Zoo, though, is crazy. Animals just roam around the place freely, and people pet and feed them. There are these huge rat-beavers, called nutria, that come in and out of the lake. And this cross between a rabbit and deer called a Patagonian mara that likes to roll in the grassy areas. Giraffes swing their long necks over the low wall of their enclosure, so you could pet them, too, if you really wanted to. The pygmy hippo opens its mouth really wide as I walk by like it thinks I'm a dentist giving it an exam, or maybe it's just trying to eat me.

There are candy dispensers full of greenish-brown pellets, which you can use to feed most of the animals like the zebras or the monkeys or any of the free-roaming animals. Apparently, they all eat the same thing. The monkeys are fun to feed. You roll the pellets down a narrow slide into their cage and they sit at the other end and catch them. We joke that this might be the only way the animals are fed, but the animals seem happy about it.

We leave Palermo to visit Recoleta Cemetery. It's a grid of stone lanes with elaborate mausoleums and marble statues packed side by side sort of like Père Lachaise or the cemeteries in New Orleans. It feels like its own miniature city. Eva Perón is one of the people buried here, and so the day comes full circle.
Fri, June 4
plaza dorrego
Aisles of colorful glass bottles, copper pots, and hand-painted tango signs fill Plaza Dorrego while street performers dance on mats they've placed over the cobblestone streets. We try to go into a café in the square for a lunch, but it's overly crowded, so we go to a bar down the way.

Tonight we're taking an overnight bus to Mendoza. While the rest of the group finishes packing, I wonder over to the Puente de la Mujer to catch a glimpse of the sleek pedestrian bridge. We'd learned about Santiago Calatrava in Architecture class. His bridge actually feels smaller in person. It's beautiful, though. It can swing open like a door to allow ships to pass. I wait for a while to see if I can catch it in action, but it remains stagnant, so I rely on my imagination.

Traveling by sleeper bus is pretty great. We get seats that fully recline. It's only our small group on the second story. We don't have to go through security like at the airport, and we wake up in Mendoza. You can't beat that.
Sun, June 6
world cup
Argentina's playing Nigeria in the first round of the World Cup today. We watch the game at a bar in San Telmo. Everyone in the bar has their eyes on the pull down projector screen. Heinze scores a goal in the 6th minute and the place goes crazy. The bar collectively yells, gasps, and cheers with every near miss and shot on goal. Argentina wins 1-0. What a way to finish our trip. Start with the Bicentennial. End with a World Cup win.
Sat, June 12
---
Explore more of Buenos Aires
or take the ferry to Colonia, Uruguay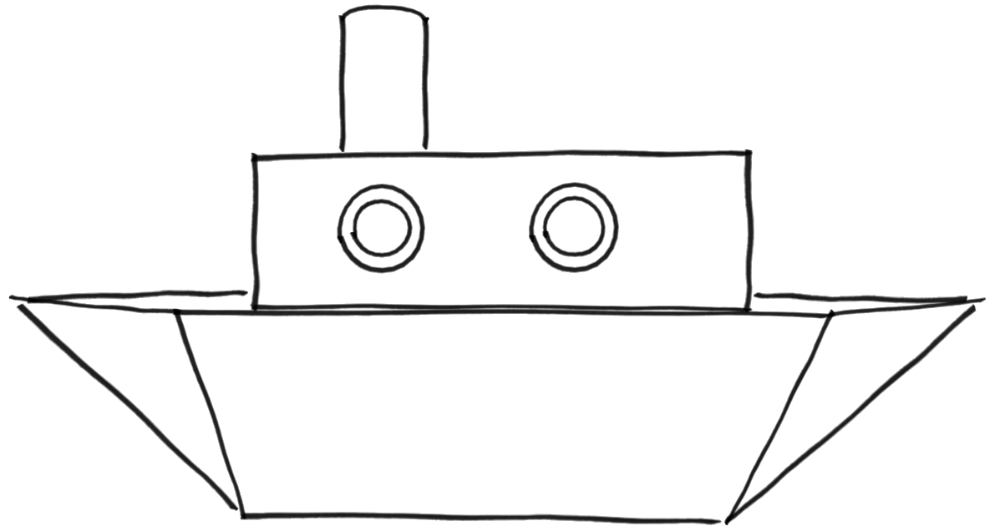 ---
joey@travelto7.com